Venerdì 19 novembre esce in rotazione radiofonica, su tutti gli stores digitali e in formato vinile 45 giri il nuovo singolo 'I Don't Want You To Leave' dei Lovesick Duo. Una sorpresa per tutti i fans dell'infaticabile duo, che potranno godere di un'atmosfera natalizia, com'è da tradizione per le country star a stelle e strisce.
'I Don't Want You To Leave' è un brano natalizio accompagnato da un videoclip dove risuona l'allegria sincera di un gruppo di amici riuniti attorno ad un falò, atmosfere retrò e un pizzico di sogno americano che si uniscono all'universo del Natale, reso inconfondibile dall'eleganza stilistica dei Lovesick Duo, che dichiarano: «nel videoclip non compare alcun albero di Natale, ma abbiamo lasciato che fosse il contesto creato a lasciarlo immaginare. Non sono gli addobbi o le luci frastornanti che creano l'atmosfera autentica ma il mood delle persone.»
Il singolo in formato vinile 45 giri, nel lato B conterrà un altro brano dal titolo "More Than Just One Kiss". Un altro lavoro che va ad arricchire la nutrita discografia del duo bolognese che in pochi anni, con attitudine musicale legata al country, rock'n'roll e western swing anni '40 e '50, si è affermato tra i principali protagonisti legati al rilancio delle atmosfere vintage.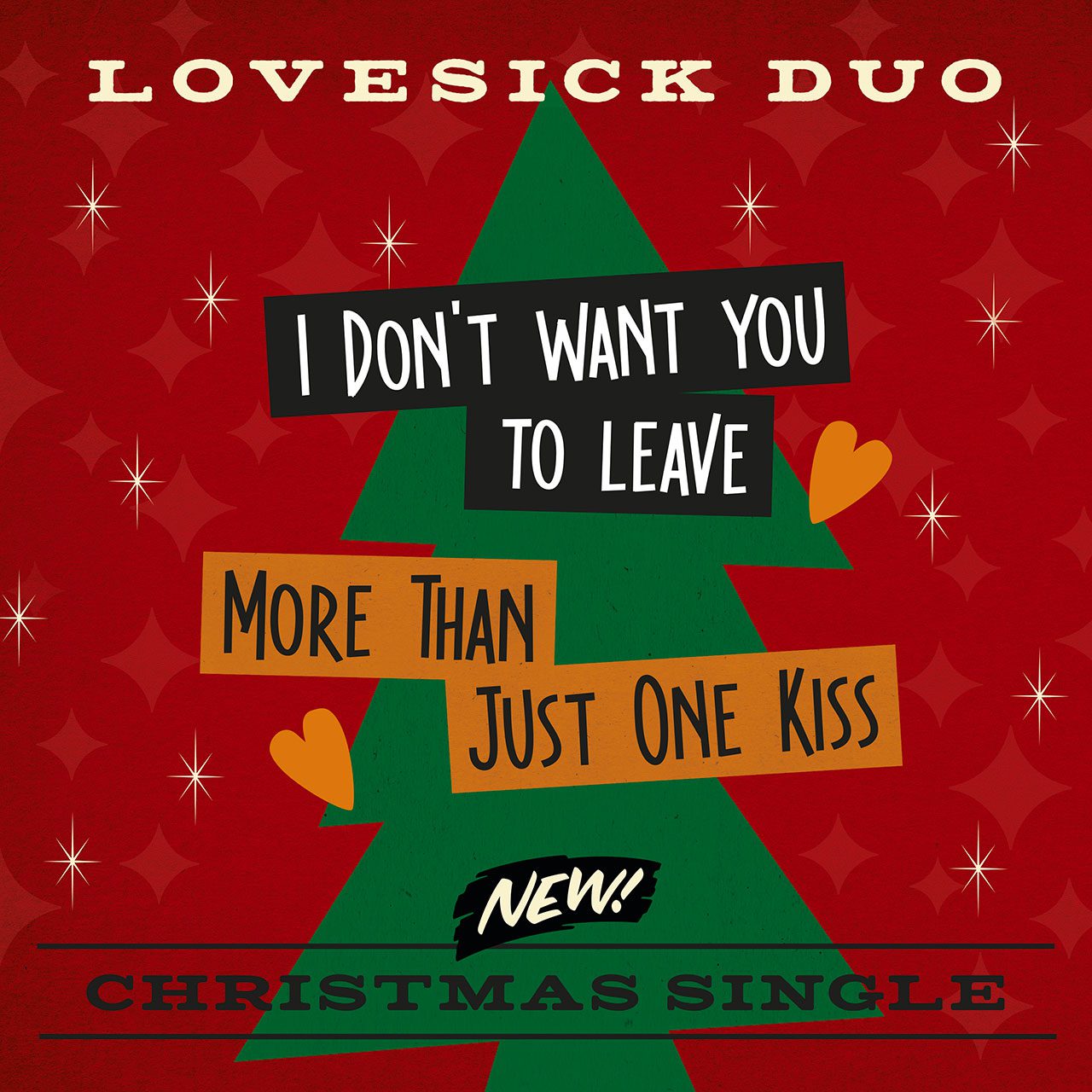 CHI SONO I LOVESICK DUO
Con il recente album-fumetto 'A Country Music Adventure' i Lovesick Duo hanno rilanciato le atmosfere anni '50 in un viaggio spazio-temporale negli Stati Uniti d'America con canzoni iconiche per la celebrazione della Country Music dello scorso secolo, riviste in una chiave attuale. Con questo nuovo lavoro sono pronti bissare il successo del precedente album 'All Over Again', che con tre singoli in rotazione radiofonica, con il supporto di A-Z Press, è stato trasmesso in tutta Europa, Stati Uniti e America Latina. Grazie a questo successo hanno ricevuto la candidatura per il premio statunitense Western Artists' Award e l'invito a partecipare a Casa Sanremo in occasione della 71° edizione del Festival della Canzone Italiana. Hanno partecipato come attori-musicisti nella serie tv su SkyTV dedicata a Francesco Totti Speravo de morì prima e nel film Lamborghini, prossimamente in uscita nei cinema.
ELENCO LINKS
Web: www.lovesickduo.com
Facebook: www.facebook.com/lovesickduo
Instagram: www.instagram.com/lovesickduo
YouTube: www.youtube.com/lovesickduo
---
Ufficio Stampa A-Z Press – Lorenz Zadro lorenz@a-zpress.com